Whenever possible, a new player will be added. This is the section where we take a look at one or some of the new up and coming talent at Tottenham. From the same ranks that made players like Hoddle, Campbell, Carr, Barmby and others, JOHN SUTTON is hoping to follow their footsteps into the Tottenham first team!
Name:
John Sutton
Profile:
(Forward) 26.12.83.

Previously trained with Norwich City and has represented England at Under-16 level, playing in the Nordic Tournament.

Born in Norwich, he attended Hellesdon High School and played cricket for Norfolk and the Midlands. Last season he played 16 times for the Under-17s, scoring three goals and also made two appearances for the Under-19s.
John Sutton is a young forward with bags of potential. He can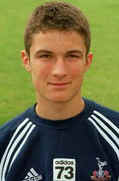 look up to the likes of his older brother, former Spurs target Chris, who is now in Scotland with Celtic, for inspiration.
Chris is a popular figure around the British isles,. He formed half of the SAS (Shearer and Sutton) which won Blackburn Rovers the championship in 1994, and later became their captain until he made a big money move to Chelsea where his career came to a stand still until Martin O'Neil snapped him up for Celtic. You would think that John would be under enormous amounts of pressure to follow his footsteps, however, John seems to be a relaxed character and admits, he doesn't feel the pressure. "Most people here are aware that Chris is my brother but to be honest I've never felt that adds pressure on me," says John.
"If anything, it helps me because he's always giving me plenty of advice. My whole family has helped me along the way, but Chris especially is the one who is advising me all the time."
John has now moved away from his home in Norwich where he had previously trained with Norwich City.
"It's difficult leaving home but I've really enjoyed coming down to London. I get to know my team-mates and coaches better and that can only help my game in the long run."
John featured in 16 games for our under 17's last season, starting in 12 of them and coming on as a sub in the other four while scoring 3 times. He also made 2 appearances for the Under 19's last season. He has started well this season scoring 8 goals. 3 of them came against Brentford while he scored the rest in the Milk Cup challenge which Spurs reached the final!
"I'm looking too play well, steer clear of injuries, progress my game and work my way up the teams if possible...but the most important thing for me is that I enjoy my football." These the words of a clearly pressurized young man...not!
*Information and pictures from www.spurs.com and quotes from Tottenham's match day prgramme vs Ipswich Town on 19/08/00!