Television and Radio coverage
Spurs' League and Cup matches live on Sky Sports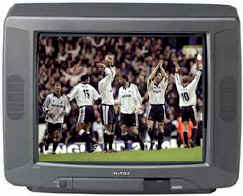 Sunday November 10th 2000 - Spurs v Liverpool, Sky Sports 1
Monday December 18th 2000 - Spurs V Arsenal, Sky Sports 1
Wednesday December 27th 2000 - Southampton V Spurs, Sky Sports 1
Saturday December 30th 2000 - Ipswich Town V Tottenham, Sky Sports 1
Possibly, as the season progresses, Spurs will be getting more live matches on sky. We can at least expect one more fixture on Sky as the required minimum is five appearances from each club and Spurs have only been featured four times. I would probably expect the Tottenham V Man United clash on the last day of the season to be one for the cameras.
Spurs' FA Cup matches live on ITV
More news on this will be available in January!
Spurs' League and Cup matches live on Radio
Throughout the season, various radio stations will be covering Spurs matches at different times. The most likely being 1548AM Capitol Gold which is found all around London. Elsewhere in London, coverage of Tottenham matches could be found on 104.9XFM. for these of you who live further up or below London, then your best option is Radio five Live!
Spurs' League and Cup games on the Internet
Thankfully, you shouldn't miss a kick during the season as Spurs.co.uk will be commentating matches free over the internet. If commentary is not found, then there is always the option of trying the other clubs websites to see if there is commentary there or there is broadcast.com which is usually quite useful!